Basic Equine Wellness Program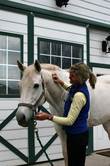 This plan is best suited for healthy pleasure horses that do not travel frequently to shows or clinics. Wagner Equine offers this 3-visit plan at a 20% discount. Please contact the office for the annual cost of this program.


---
---
Visit #1: February/March
Physical Examination with Nutritional Consult
Vaccinations: Influenza/Rhinopnuemonitis (combined), Potomac Horse Fever
Fecal Floatation

Visit #2: May-July
Vaccinations: Potomac Horse Fever booster, EWE/Tetanus, and West Nile Virus
Dental Float (including sedation)

Visit #3: October/November
Vaccinations: Influeza/Rhinopneumonitis (combined), Rabies






---
•Horses can be enrolled at any time during the year. The program lasts 1 year from the date of commencement.

• Additional procedures (i.e. sheath cleaning, lameness examination, etc.) and vaccinations (i.e. Strangles, Botulism, Lyme) can be included at an additional cost. Additional procedures may have to be performed at a later date if there are time constraints.

•Farm call charges are NOT included; however, the farm call will be discounted if ≥10 horses are visited at the same stable.

•Payment Policy: Clients may choose to pay in full at the time of enrollment OR the client can be billed at each visit. Cash, Check, Visa, Mastercard, American Express, and Discover are all acceptable forms of payment. For your convenience, credit card information may be securely kept on-file at the office.